| | |
| --- | --- |
| Posted on 18 May, 2020 at 21:25 | |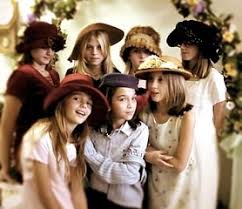 Well, it's been some time since this virus appeared!  We have had many cancellations, and a few new ones for June and July.
We have a guest staying with us for a year, since last Monday.  Her name is Grace, and her family owns Becker's Convience Store here in Seaforth.  They are very nice people, and we are happy to have her here.
We are now doing Princess High Tea for Moms and daughters.  Since some children are fussy eaters and there may be allergies, Nancy is happy to work with Moms on the Menu.
Peanut Butter with Laura Secord Hazelnut Spread
Cheese with special sandwich spread
Ham with pineapple jam
Small cakes with butter cream icing
Banana Bread with raisins and walnuts
Lemon poppy seed loaf
Beverage to be determined - tea with lots of milk, Italian soda, lemonade, iced tea - tea for the Moms
Book now by calling 226-699-0003